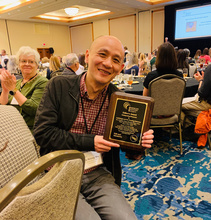 Yu-Hsiang Wu and his colleagues were honored with the Ear and Hearing Editor's Award for the publication, Efficacy and Effectiveness of Advanced Hearing Aid Directional and Noise Reduction Technologies for Older Adults With Mild to Moderate Hearing Loss in Ear and Hearing, 40(4):805-822).
The full authorship is Yu-Hsiang Wu, Elizabeth Stangl, Octav Chipara, Syed Shabih Hasan, Sean DeVries, and Jacob Oleson. The award was presented at the 2020 American Auditory Society (AAS) meeting in early March.
Congratulations, Wu!