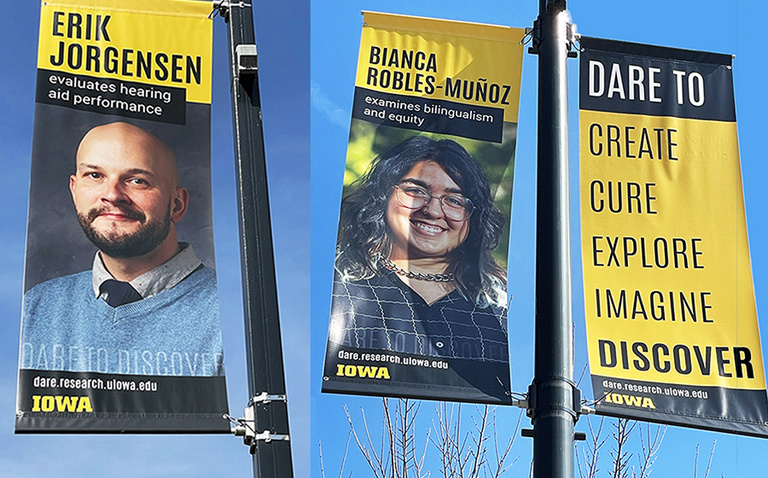 Two of CSD's graduate students are making waves—both in their fields of study and in a more literal sense—in the downtown Iowa City area as Dare to Discover scholars.
Bianca Robles-Muñoz, now an MA-SLP student, was selected for the 2021 campaign. She graduated with a Speech and Hearing Sciences bachelor of Art's degree with minors in Latino/a/x Studies and American Sign Language. Her mentor is Kristi Hendrickson. Read more about her at https://dare.research.uiowa.edu/robles-munoz-bianca/.
Erik Jorgensen was also selected as a Dare to Discover scholar in 2021. He earned an AuD from Iowa, and he is now pursuing his PhD. Yu-Hsiang Wu serves as his mentor. Read more at https://dare.research.uiowa.edu/jorgensen-erik/.
Banners are displayed in downtown Iowa City on Washington, Clinton, Dubuque and Linn Streets.
"These exemplary students, who were nominated by their faculty mentors and colleagues, show incredible commitment to their pursuit of new knowledge that advances our understanding of ourselves and the world around us," said Vice President for Research Marty Scholtz.
Bravo, Bianca and Erik!