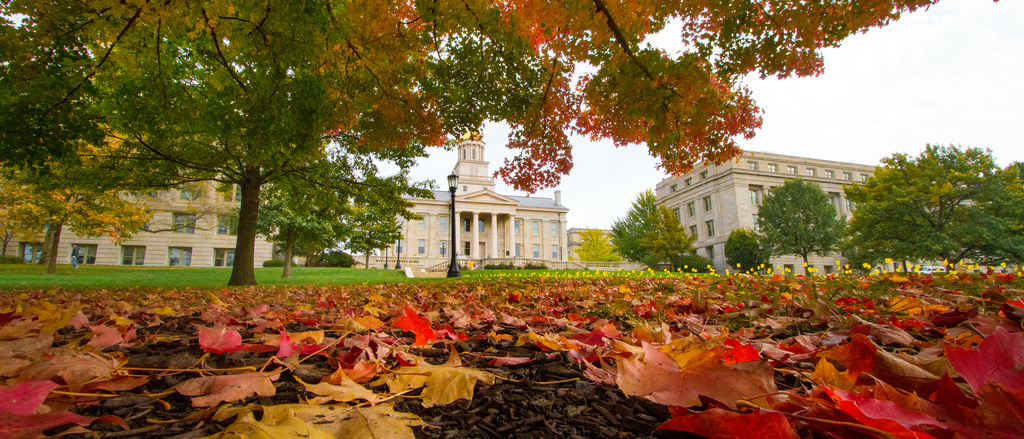 We welcome hearing personal and professional news from our former students! Updates are posted in this space. Send us your news by Emailing us at webmaster@shc.uiowa.edu.
Updates from Alumni Who Graduated in the 1940s
Donna Russell Fox (MA 1949). "I love getting the newsletters and seeing old friends like Hugh Morris  Even at 87 it is nice to know many of the skills learned at Iowa are still valuable. I received my MA in 49 and my two PhDs at Missouri. U of Iowa will always be first in my  heart. I still work as a consultant in Radiology 2-3 days a month and still get job offers several times a week, but I can't let that interfere  with my favorite sport - dog training and showing.  My toy poodle is ranked  2 in Front and Finish in obedience by the number of scores (he is 4 yrs old) and much faster in Agility than I am but going for the Masters in Jumpers and Standard."
The 1950s
Lawrence (Larry) John Smith, Jr. (MA 1950). Retired from Dupont Co. after 30+ years. Taught speech at St. Louis University prior to working for Dupont.
Marilyn Kennedy (BA 1952). I graduated from Iowa in 1952, a long time ago. I spent 35 years in the public schools.  When I attended Iowa Wendell Johnson, Dr Spriesterbach and several other famous grandfathers of the field were there. Iowa was number 1 when I was there and as I begin my 88 year I M still proud to see it is still number 1. 
Jacqueline Ann Johnson (BA 1953). Retired. Career: speech therapy in Galesburg (1953-55); speech therapist for Keokuk and Powishiek counties (1954-57); speech therapist in Cedar County (1957-58); oral deaf school in Davenport (1958-61); resumed teaching speech therapy for Davenport school system (1967-68). Daughter Maureen Ann Johnson lives in New York City; son Hugh D. Johnson deceased August 17, 2011; daughter-in-law Cheryl Johnson lives in Marion, Iowa; two grandchildren Courtney and Dailey Johnson. Husband Hugh R. Johnson, deceased, August 26, 2008.
Parley W. Newman (PhD 1954). Retired, "I'm alive and well."
Joan Livingston Prouty (BA 1954). Part-time teaching at Sam Houston State University. "Finished PhD at Texas A & M (in Reading–Writing-Ed Psych). I was a professor at SHSU for seventeen years in Huntsville, TX - now semi-retired in Curriculum and Instruction in the College of Education." 
Shirley Nichols Sparks-Greif (BA 1955), Associate Professor Emerita, Western Michigan University,  has co-authored the 2nd edition of the book, The Art and Practice of Home Visiting, Cook, R., and Sparks, SN.  2021, Brookes Pub.,  "This text for future and present  practitioners  ill help all home visitors master the practice of effective home visiting with today's diverse families."
Harris Winitz (MA 1956, PhD 1959). Former student of Fred Darley and Orvis Irwin. Retired from the University of Missouri-Kansas City. "Springer-Macmillan published my book, Comprehension Strategies in the Acquiring of a Second Language, in November 2020."
 
The 1960s
Hughlett Morris (BA 1952; MA 1957; PhD 1960) has published a new book: The Cass Street Kid, (subtitled: a journal remembered, Wheatmark 2013). The title refers to his street address in Dayton when he moved there at age 15. It is a memoir of sorts, including his 45 years, 1948-1993, at the University of Iowa and in the Department of Speech Pathology and Audiology, as a client, student, and faculty member. The Cass Street Kid is his seventh published non-technical work. It was named by the Arizona Star as one of the ten best titles published during 2014. Morris's books are available at amazon.com.
Roma Lee Johnson (BA 1964; MA 1966). Current job: Semi-retired. "I spend six months of the year in Kona, Hawaii, and six months in Webster City, Iowa. I continue to work as an SLP when in Hawaii." 
Herbert F. Schliesser (PhD 1965). Director, Speech and Hearing Clinic, University of Nebraska, Lincoln, 1965-1973; Vice Chairman for Speech Pathology and Audiology in Department of Speech, 1968-1973; Interim Director, Barkley Memorial Center, University of Nebraska, 1973-1974; retired as Professor Emeritus, 1991. "My wife, Barbara, received her MA degree in Speech Pathology and Audiology at Iowa in 1961. We are both retired and live in Lincoln, NE." 
Patricia Reading (BA 1966). "I am enjoying my best clinical situation of my career as an outpatient Speech-Pathologist in a small community handling mostly diagnoses of adults and children. I just love it."
Ted Glattke (PhD 1968). "I retired from academia December 31, 2007, after 32+ years at the University of Arizona.  I was inspired by Hugh Morris' recent comments in the Department Newsletter to send you an update.  I am amazed that I can say I've known him for 45 years!  He was at the first orientation meeting  (party) I attended in Iowa City and he attended my retirement party in December, 2007!  Importantly, he insisted that I rotate through the Iowa Cleft Palate Program during my Ph.D. studies with Arnold Small in hearing and, in doing so, he granted me the opportunity to develop insights that have served me well. I will be working in Mexico to create an NGO devoted to producing low cost hearing aids for distribution in Latin America.  If any reader is in Alamos, Sonora, give us a call (local number 428-0312), and we will be delighted to show you the sights of this beautiful colonial city."
Sandra Hammers Przybylski (BS 1968). Current job: SLP, working in Missouri's First Steps program. "It doesn't seem like 48 years have past since I got my BS degree from Iowa.  We had strange semesters then, with finals after the holidays and graduation in February. We were encouraged to go on and get our Masters; however, I went to work as an elementary teacher (I'd had a minor area in education) to earn money for grad school. I received my MA from Illinois, but I'll always have a strong attachment to Iowa.  I learned a lot from my many professors and my advisor, Judith Milisen Knabe. I'm still using that knowledge working with infants and toddlers in Missouri's early intervention program (birth-3). I've had the privilege to work in many areas of education along with many ages -- adults, children, and now the very young." 
The 1970s
Ellen-Marie Silverman (MA 1967; PhD, 1970 - thesis and dissertation advisor, Dean Williams): "It's been quite some time since I updated my fellow alums, faculty, and staff regarding my work and life, so this note might be a little long. Perhaps, not!  I recently published two books on stuttering for the general public and students and colleagues alike.  They are "Mindfulness & Stuttering. Using Eastern Strategies to Speak with Greater Ease" (2012) and "Relief From Stuttering. Laying the Groundwork to Speak with Greater Ease" (2013). Both are available at amazon.com. Currently, I am writing a young adult novel with the working title, "Winning," as a sequel to a middle reader novel I wrote, "Jason's Secret," that was published in 2001.  In that book, Jason was a 10 year-old boy taking his first constructive steps to resolve his stuttering problem.  In the sequel, he is 13 years old and continuing to learn how to resolve his stuttering problem, which is of much less concern to him than it was earlier, as he searches for meaning in life through various relationships with family, friends, teachers, and others. I closed the healthcare staffing services company I founded and ran as CEO, TSS-The Speech Source, Inc., through which I pioneered open captioning for live theater to allow me to write full time. My paintings, drawings, and small installations have been included in various juried art shows.  Currently, I am learning to make computer art and enjoy continuing to indulge my passion of photography. I have one grandchild, a granddaughter who, at 16, is a member of her high school's gymnastics team, and an accomplished drummer, skilled photographer, and artist whose chief passion, at the moment, is songwriting."
Raymond D. Kent (MA 1969; PhD, 1970) coauthored with John Laver, The Encyclopedic Dictionary of Communication Sciences & Disorders (Thieme Publishing). He also has been appointed an editor for speech, Journal of Speech, Language, and Hearing Research
Ken Messer (MA Speech Pathology 1971; DDS 1975; orthodontic residency 1977). Current job: Orthodontist -- no retirement date. "I love my professional work, 4 married children, 5 grandsons (waiting for a granddaughter?), free(?) time with wife Susie, hybridizing daylilies, making jewelry and quilting. Hope to participate in a triathlon in June 2008."
Kathleen Williams Presgrove (MA 1972). "I retired in 2003 after 30 years in the Speech and Hearing Clinic of Atlanta Speech School, Inc., as an SLP. I received honors of the GA Speech-Language-Hearing Association in March 2006. I'm enjoying traveling during my retirement."
Jan Irwin (BA 1973). Current job: Owner / manager of KeyRehab, contract therapy company (800 employees and 150 locations). "I live in Murfreesboro, TN (home to Middle Tennessee State University), and have two grandchildren."
Patricia Dee Killian (PhD 1974). "My graduate work focused on children's language development and adult language, dysphagia and physiological communication disorders.  The program served me well in my career, primarily since 1976 in Colorado as a University assistant professor and communication business owner, as a family member, and as an elected State Representative! I hope that the Communication Sciences & Disorders department continues to flourish offering students great opportunities to learn, discover and create just as I received so long ago.  My gratitude to the department staff then and best wishes to you all now!"
Sandra Hobson (MA Audiology, 1975; AuD, Arizona State University of Osteopathic Medicine and Health Sciences, 2001). "I'm celebrating my 15th anniversary in private practice -- a new larger office at the same great location, offering services dealing with LIVING with a hearing loss and deafness."
Jan Heath Schwanke (BA 1974, MA 1975). "I'd like to pass on my news.  I recently retired from working for many years in the Illinois public schools. I also am an adjunct instructor in special ed at National-Louis University in Wheeling, IL.  I have presented at ASHA and ISHA (Illinois) on the topic of word finding in children.  I have just started a blog, wordfindingforkids.com.  I would love to have my Iowa colleagues check it out and post their comments." 
James Lynn (BS, Speech and Hearing Science; MA, 1969, and PhD, Audiology, 1975). Current job: Interim Dean, College of Fine and Applied Arts, The University of Akron, Akron, Ohio.
Kathleen (Lutjen) Anderson (BS, Speech and Hearing Science, 1976; MEd, Speech Pathology and Audiology with special emphasis on education for DHH children, Pennsylvania State University, 1978; Certified Auditory Verbal Therapist, 1995). Current job: Teacher DHH, SLP, Certified AVT/Early Intervention, District 287, Plymouth, MN.
Joan (Bodensteiner) Lentz (MA Speech-Language Pathology, 1976). Current job: SLP for AEA 267. "Husband Bob is a civil engineer; son Bryan, 24, civil engineer; daughter Alison, 23, first year grad student in speech-language pathology at the great U of Iowa; daughter Emily, 18, college-bound, probably NOT for civil engineering or speech pathology!"
Susan G. Lynn (BS, Speech Pathology & Audiology 1974;  MA Audiology 1976). Current Job: Clinical Audiologist Austin Medical Center and Rochester Mayo Clinic. " I also have MA Human Development (2002 - St. Mary's University of MN) and am in my first year of the PCO AuD program.  I am a NARHA Certified therapeutic horseback riding instructor and Special Olympics Equestrian Coach. Friends may Email me at lynn.susan@mayo.edu."
Kay (Busse) Meyer (BA 1976). Current job: SLP contracting to schools in Lake County, IL. "Yes, advisors, you were right.  Going to Northwestern for the M.A. was a culture shock, but my Iowa values and preparation allowed me to survive.  UI grads can go anywhere in the world! After my CFY as a NU employee under Jeri Logemann, I moved to the Chicago suburbs, had two children (one engineer who went to Iowa State, and one MSW) and have worked continuously in private practice and schools.[For the celebration event] I am ready to sing (alto) or fill in as a member of a skit, if anyone needs talent. I just refuse to wear my 1970s pantsuit. Those were good days."
Paul T. Fogle (PhD 1976). Current job: Professor at University of the Pacific. "During my three years at Iowa my wife, Carol, was the Head Nurse of the Head Specialty Recovery Room at the Medical Center (we have made a good team for 40 years).  I very much appreciate the rigorous education I received, and it has served me well over the past 35 years.  Dean Williams was my dissertation advisor and mentor, and I still miss him.  Hopefully I have made him proud (although he probably had some doubts sometimes). I have been at the University of the Pacific in Stockton , CA since 1979.  My focus has been primarily on neurological disorders in adults, although I have done a lot of work with both children and adults who stutter in my private practice (I worked with Joe and Vivian Sheehan for three years prior to coming to Iowa.)  Voice disorders and cleft palate (thank you Hugh Morris!) also have been specialties of mine.  In terms of cleft palate, I now am one of the SLPs for Rotaplast (Rotary) International Cleft Palate Team and have been on missions to Venezuela and Egypt.  Summer 2011 I am going to India with the team. Much of my focus now is writing and the second edition of Counseling Skills for Speech-Language Pathologists and Audiologists is coming out in Spring 2011, and the second edition of the Ross Information Processing Assessment-Geriatric (RIPA-G) is coming out in Summer 2011.  In the spring of 2012, the Essentials of Communication Sciences and Disorders (a smaller version of the mammoth 920 page) Foundations of Communication Sciences and Disorders (2008) text will be coming out. Whatever professional success I have had I attribute to the excellent education I received at Iowa." 
James Mangan (PhD 1977). Current job: Private practice in Seattle, WA, area. "I was diagnosed with non-Hodgkin lymphoma in June 2005 and underwent chemotherapy, have been cancer-free. I have five grandchildren."
Jody Spalding (BS Psychology, 1975; MA Audiology, 1978). Current job: Audiology Clinic supervisor, University of Nebraska-Lincoln.
Nancy (Boyle) Erickson (MA, Speech Language Pathology, 1978). Current job:  Coordinator, Communication Disorders Department, Fulton County School System, Atlanta, GA. "Come on down!  Atlanta is great!  I have 150 SLP positions and 3 audiology suites I'd love to fill with UI grads!"
Evelyn Vinduska McKnight (MA Audiology, 1979). Current job: Owner, Professional Hearing Center, PC in Fremont, NE. "I have recently celebrated my 25th year in private practice.  Also recently released the book "A Never Event: Exposing the Largest Outbreak of Hepatitis C in American Healthcare History".  I am a survivor of this outbreak and have formed a foundation Hepatitis Outbreaks' National Organization for Reform, which is dedicated to patient safety and justice.  My malpractice settlement was the seed money for this national foundation."  
Laurie Borsheim Allen (BA 1976, MA Audiology, 1978). "I am just finishing up my 32nd year working as an educational audiologist for Keystone AEA in NE Iowa. I plan to retire in June, 2010. I got my AuD degree in 2005 from Arizona School of Health Sciences. I plan to work part time for Lifeline Amplification Systems promoting the use of induction loop systems and educating dispensers about the advantages of their patients using their telecoils to access loop systems."
The 1980s
John Preece (PhD 1985) has retired as Professor of Speech-Language Pathology & Audiology at Hunter College and Executive Officer of the Graduate Center of the City University of New York. Prior to moving to New York, he was Professor and Director of Audiology at the University of Rhode Island, and, longer ago, was at the VA Medical Center in Long Beach, California. In retirement, he is working as a licensed Emergency Medical Technician in the Jamestown, RI Volunteer Fire Department.
Stephen Gude (BA 1979, MA 1980). "I was a school SLP since graduation, working for Keystone Area Education Agency 1 in Northeast Iowa (1981-1985); for the St. Paul, MN, Public Schools (1985-1988); and for the Des Moines Public Schools (1988-2018). I retired in June 2018, and my wife and I live in Des Moines. We have a daughter who is married and is a family practice physician in Grants, New Mexico; a son who is an associate editor at Jacobin Magazine and lives in Chicago; and another son who is married, is an actuary, and lives in Iowa City."
Raymond Linville (PhD 1982). Current job: Dean, Waldron College of Health and Human Services, Radford University. "My son, Dax Linville, is ranked #1 in his age division for karate in the state of Virginia."
Janet Crock Lynn (BA 1981, MA, Audiology, 1983, AuD, U of Florida, 2002). Current job: Private practice owner in Minnesota. "After 25 years in audiology (clinic / 3M / hospital), I started a private audiology practice…and I'm loving it…still after all these years. I'm an empty nester – (my) daughter is studying health law / bioethics at law school and the twins are college sophomores."
Natalie Gutow McManus (MA Speech Pathology, 1983). Lives in Potomac, MD.  Licensed SLP-CCC, Designated Linklater Voice Teacher, Certified Forensics Coach. After "retiring" from many years of working as an SLP, I am now in my 5th year as an Adjunct Professor teaching Theater Voice and Speech in the Theater Dept. at George Mason University in Fairfax, VA and loving it.  I now judge for area Forensics tournaments but have relinquished my job as a high school coach and tournament director.  My company, Puck's Pals, is busier than ever teaching Shakespeare workshops in area middle schools each spring, and I am building an ever-growing client list for professional speech presentation skills workshops.  I act in local productions when time permits.  In 2009 I'll celebrate my 50th birthday, my 25th wedding anniversary, my oldest daughter's graduation from college, and my son's graduation from high school (the last one out of the nest!).  Would love to hear from my fellow 1983 graduates: Natvoice@aol.com.
Rita F. Pray (MA Speech Pathology 1983). Current job: SLP for Heartland Area Education Agency 11.
Michelle Quinn (MA, Speech Pathology 1983). Current Position: Emeritus Clinical Professor, University of Wisconsin-Madison.
Amy Richards (BA, Iowa, 1983; MA, University of Houston, 1986). Current job: Speech Pathologist at Kindred Northwest Hospital. "I have practiced speech pathology in a medical setting since 1988, happily job sharing and maintaining balance in my work and life. I am almost done raising 3 great kids. Old friends may Email me at richards@hal-pc.org."
Ted Madison (BS 1982; MA Audiology, 1984). Current job: Technical service specialist, 3M Occupational Health and Safety. "(I was) appointed to the Council for Accreditation in Occupational Hearing Conservation (CAOHC). Elected to ASHA Special Interest Division 8 Steering Committee, Hearing Conservation and Occupational Audiology."
Faith C. Loven (BS 1979; MA 1981; PhD 1985). "My family was recently in Iowa City to attend our son's graduation. He graduated with honors in political science and is off to Florida State to start his graduate work. Mark and I both enjoyed our visits down to Iowa City over the last three years, but we won't miss those U bills! I begin my 30th (!!) year at UMD this Fall.  Dana Collins and I continue to maintain our little slice of Iowa in the Northwoods. My text, An Introduction to Normal Auditory Behavior, which was published about five years ago, continues to gain some modest success.All appears well in Iowa City. I was kind of sad to read about the recent retirements of Bruce Tomblin and Richard Hurtig. They were the last of 'my' professors still on staff at Iowa."
Lori (Potter) Nagel (BS, Iowa, 1989; MS, Speech Pathology, U of Arizona, 1991). Current job: My 17 month old son, Braden News: " My husband, son, and I recently relocated back to the Des Moines area after living in the Southwest for 18 years, most of that time within Southern California.  I am taking some time away from my career to raise my son but want to stay connected to the University of Iowa and the SHC department."
The 1990s
Ningji He (PhD 1990). Current job: ENT research, Medical University of South Carolina.
Karen Iler Kirk (PhD 1991). Current job: Professor / Chair, Department of Speech and Hearing Science, The University of Illinois.
Elana (Feinstein) Shinkle (MA 1991). "I've found an SLP position I really enjoy, at the Woodward Resource Center. If anyone would like to know more about what we do at our facility, please Email (eshinkl@dhs.state.ia.us)."
Barbara J. Parker (PhD 1992). Current position: Audiology private practice owner since 1997.  "Completed a doctorate (Ed.D.) in Educational Leadership in 2017.  Current research is in the area of small group dynamics and women's leadership. Research reviewer for Journal of Research on Christian Education and B&H Publishing Group. Enjoying life with family and friends."
Marcie Kurth Miller (MA, Speech-Language Pathology and Audiology 1994). "I am still married to my high school sweetheart and we have two children ages 8 and 10.  I am working part time in a K-5 building for a local school district, following eight years of working in healthcare.  I also continue to do some 0-2 early intervention for the state of Illinois.  I look forward to hearing from some Iowa friends at marciemiller@consolidated.net.  Or check out my blog at www.rellimfamily.blogspot.com.
Deborah (Jackson) Doughty (BS, Speech and Hearing Sciences, 1993; MA, Speech Pathology, 1995). Current job: SLP for adult and geriatric patients at Aurora Sinai Medical Center.
Suzanne Moineau (MA, Speech-Language Pathology 1996). Current job: Professor, Chair, Department of Speech-Language Pathology, California State University San Marcos. "I love reading the newsletter and seeing familiar names and all of the great work that is coming out of the department. I had an amazing journey while doing my master's at Iowa (1994-1996). I had various RA positions, including one with Ingo Titze making measurements of canine larynges, another with Dr. Elaine Smith from epidemiology to explore the role of HPV on the development of oral cavity cancer, and finally with Harry Hofmann (M.D., Otolaryngology) to assist in organizing a database of patient information. So varied and so fun. My advisors/mentors, Drs. Kittie Verdolini, Patricia Zebrowski and Bruce Tomblin were exceptional role models and very collaborative with the master's students.  All of these experiences solidified my desire to continue on for my Ph.D., which I did at a Joint Doctoral Program between UCSD and SDSU. My mentor there was the late great, Dr. Elizabeth Bates. After completing my Ph.D., I was offered a position at a small CSU campus in northern San Diego County called California State University San Marcos. They were interested in developing a master's program in CSD. I jumped at the opportunity to develop a program from the ground up!  In my 11 years there, I have built a successful MS in SLP, a thriving post-bac preparation program, and we will launch our BS in SLP this Fall. In 2015. I built a thriving department from a one woman show. I along with two of my colleagues, Dr. Alison Scheer-Cohen (had a stint at CSD/U of Iowa too!!) and Dr. Lori Heisler received a $1.25 million dollar grant last year from the US Dept of Education to train 50 graduate students clinicians over 5 years for competency in the assessment and treatment of communication disorders in children with craniofacial anomalies.  The grant is unique in that it is also a collaboration with otolaryngology, dentistry and social work to provide the students with a comprehensive view of care in this population. I never forget my roots at Iowa, and am a very proud alumna! The faculty collectively launched my curiosity for science, my dedication to the highest standards in clinical care, and my commitment to collegiality with students."
Sarah Hutchins Hawker (MA Audiology, 1998). Current job: Co-owner weekly newspaper, The Greene Recorder. "We bought Ross' parents' business in May of 2002. We run the Green Recorder. We moved to Greene in Summer 2003. We have three kids (Lauren, 6 years; Nathan 3-1/2 years; and Kirsten 1 year) and three cats. Hello all!"
Megan J. (Haney) Handzlik (MA 1999). Current Job: SLP for Bellingham School District in Bellingham, WA. "My news: Mark and I are expecting our first baby at the end of June."
Kim Arnold (BA, Speech and Hearing Science 1999; MA Family-Centered Early Education, Gallaudet University, 2006) Current Job: Infant-Toddler Teacher, California School for the Deaf, Fremont. "My undergrad from U Iowa's Speech Path/Aud program has well prepared me to work in Early Intervention with Deaf and Hard of Hearing children - as well as work on transdiciplinary teams with CI surgeons, SLPs, AUDs, and teachers of the Deaf." 
Brenda (Bergman) Hoover (BS 1988, MA Audiology 1990). "I've been in Omaha at Boys Town National Research Hospital since 1991.  I'm currently working as a Research Audiologist in the laboratory of Dr. Pat Stelmachowicz.  I am married and have 6 children (Jack, Mary,  Grace, Kate, Peter, Annie)."
The 2000s
Megan (Comerford) Adler (BA, Speech and Hearing Science, May 2000; AuD, Pennsylvania College of Optometry, 2006). Current job: Audiologist at Midwest Ear Nose and Throat Consultants, Ltd. in Winfield and Naperville, IL.
Jill Nesham  (BA, 1999; MA 2001). Current job: President / Owner, Professional Hearing Solutions by Dr. Jill.
Rebecca Garms Cummings (MA, 2002), Clinical Speech-language pathologist for Iowa Health in Des Moines, working as a resource person, covering all areas (acute, inpatient rehab, pediatrics, outpatient). "I can't believe it has been four years already!" She and her husband, Jake, celebrate their one-year anniversary in September.
Susan Stentz (BA, May 2002). "I cannot thank my wonderful professors enough, as I felt completely prepared going into my master's studies. I graduated with my master's degree in audiology from the University of Illinois in 2004. Currently I am working as a pediatric audiologist at Children's Memorial Hospital in Chicago, IL. I am also working toward my AuD through the University of Florida distance learning program."
Erin McGarry (MA, December 2004). "I moved from Chicago back to Iowa to be closer to my family. I'm currently living in Davenport & am working as a researcher for LinguiSystems. I also work part-time for Genesis VNA in home health. Feel free to contact me @ emcgarry@linguisystems.com."
Thomas and Judith (Sofen) Kovacs (both BA, 2004: Thomas, MA 2006 University of Colorado; Judith, MS, 2006 Rockhurst University). Judith, SLP in private practice; Tom, a speech scientist and PhD student at the University of Pittsburgh. "We were classmates in undergrad. We've recently gotten married and moved to Pittsburgh, where Tom as started work on his PhD in AAC, and Judy has joined a private practice."
Lindsay B. Overton (BA, Speech and Hearing Sciences, 2005). Currently going to graduate school in Washington, DC at Gallaudet University. "I will be graduating in May 2007.  I'm on a Pediatric Aural Rehabilitation Emphasis grant which is federally funded to produce more professionals in the field to work with the Deaf and Hard of Hearing population. I'm currently the president of the NSSLHA chapter here also."
Karissa Hackert (BA, 2007). "I only went as far as getting my BA but feel I have had great success since graduation.  I work for Epic Systems Corporation in Verona, Wisconsin, a leading healthcare information technology company (currently installing many applications at UIHC!!) and work on their EpicRx pharmacy application.  I was hired in May 2007 as an Implementation Specialist and with my years of inpatient pharmacy background prior to attending Iowa, I truly enjoy using my experience to help configure and install their system.  I am currently working with clients in St Louis and Houston, managing their Rx implementation, with my emphasis on beside barcode medication administration.  It is a very rewarding career and while it is not what I envisioned doing out of school, the opportunity was presented, and I don't regret going this route.  Watching end users use the system at a go-live is such a great experience and it shows our hard work having a positive influence on healthcare! I wasn't the star student in the SLP program at Iowa, but I didn't do poorly either, and it is nice to show everyone that even the 'average' students can make something of themselves and be highly successful, even if they are not straight-A students or going on to get a PhD.  I am very proud of how far I've come and look forward to hearing how UIHC does once Epic is up and running." 
Kristi Musser (BA, 2007) is a pediatric audiologist at the University of Minnesota Amplatz Children's Hospital. She serves on the board on the Twin Cities Iowa Club. "With each new class of graduates, we like to extend a warm welcome to new Iowa alum in the area.Any new graduates (or new transplants to Minnesota), are invited to participate in the local Iowa Club." (Email kemusser@gmail.com.)
Mary Sloan (BA, 2009) is now screening newborn hearing at Unity Point Health in Des Moines.
Scott Dailey (PhD, 2009). Current position: Directs the Speech and Swallowing Clinic at the University of Iowa Hospitals and Clinics; adjunct assistant professor in CSD. Dailey was honored in October 2018 with Board of Regents Staff Excellence Award.
Shannon Vokac (BA, 2015). Current position: Clinical Audiologist, The Ear, Nose & Throat Care Center, Barrington, IL.