Outreach and Public Engagement
We uphold Iowa's long legacy of connecting with the local community, Iowa's citizens, and virtual partners through engagement, outreach and service learning programs
The tradition of extending beyond our walls began with CSD's roots in the 1920s. The Summer Residential Program for children continued for more than 50 years. As our profession developed, outreach to clients with diverse speech and hearing disorders has broadened, including the programs below and a variety of summer programs. 
Aphasia Support Groups
The Aphasia Reading Club (ARC) meets weekly for people with mild to moderate aphasia who continue to experience difficulties with reading comprehension.  A variety of reading strategies and support are used to promote understanding of print at levels chosen according to individual ability.
The MAGIC (Modalities Aphasia Group – Improving Communication) group provides support and education to individuals with aphasia and their family members. Graduate students studying speech-language pathology, under the guidance of clinical faculty, provide a supportive environment for group members, as the student clinicians develop real-world skills working with those with neurologic injuries and illnesses.
Cochlear Implant Informational / Support Groups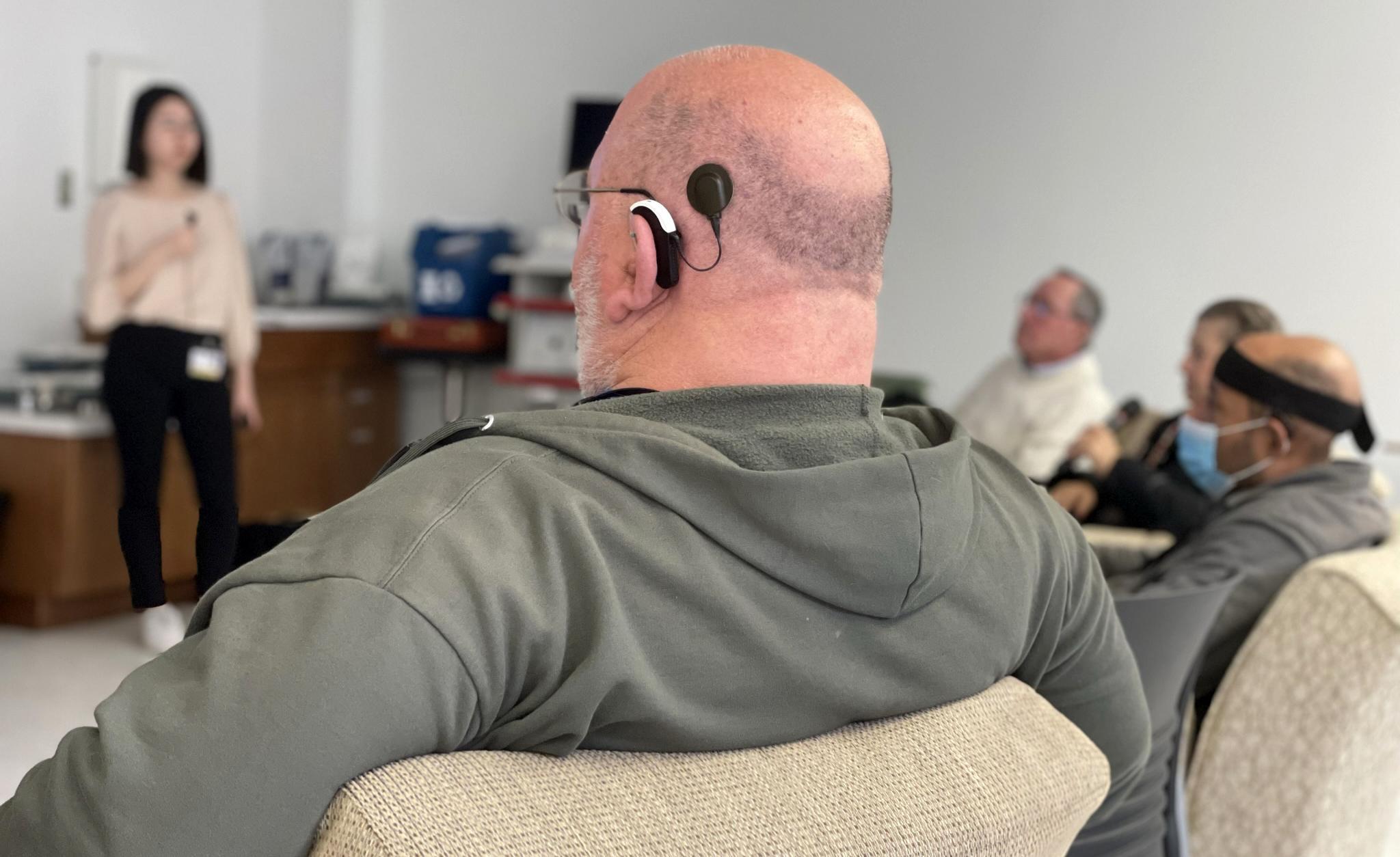 Support groups for those who wear CIs and their frequent communication partners allow opportunities for participants to share experiences and learn from one another. Clinical Assistant Professor Julie Jeon and audiology graduate students provide information, answer questions and introduce listening exercises and communication strategies to practice together.
For individuals in the community who struggle with a significant hearing loss and are considering cochlear implants, informational sessions are held each semester. During the sessions, audiologists and graduate student clinicians discuss how cochlear implants work, candidacy, current technology, and the potential benefits that a CI can provide.
Several sessions are held each semester in person at the Wendell Johnson Speech and Hearing Center or via Zoom.
Community Preschool Hearing, Speech and Language Screenings
A team of faculty and students from the Wendell Johnson Speech and Hearing Clinic goes to area preschools and daycare centers each year to provide no-cost hearing, speech and language screenings for children 3 – 5 years of age.  Results are shared with parents, and options for treatment or strategies for remediation for any detected problems are shared. Parents are notified of the opportunity for screening prior to the WJSHC visit, and they may choose whether or not to have their child(ren) participate.
Early Classroom Collaboration

The Language Disorders in Children: Birth to five course, currently taught by Assistant Professor Philip Combiths, includes a service learning component that was initially developed and implemented by Professor Emeritus Karla McGregor. Master's students in speech-language pathology partner with the early classroom teachers at the Neighborhood Centers of Johnson County. The speech-language pathologists in training coach teachers on the use of language facilitation strategies in the classroom. The MA-SLP students benefit from learning how to work via professional collaboration and gain experience in 'real world' situations.
GEAR UP Iowa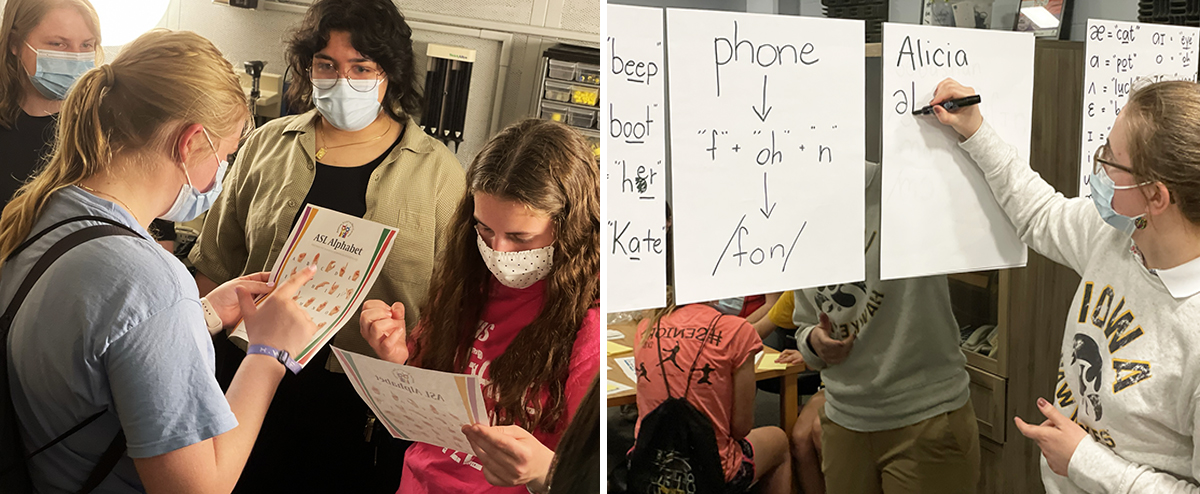 GEAR UP (Gaining Early Awareness and Readiness for Undergraduate Programs) Iowa supports underserved students to prepare, enroll and persist through college. Speech-language pathology and audiology are currently not racially and ethnically diverse professions. Thus, CSD clinical faculty and graduate students encourage teen visitors to explore these fields as career goals. In Spring 2022, 75 ninth-grade students from Marshalltown, Columbus Junction, and Centerville embarked on a building tour to view clinic rooms, audiological suites,  and the anechoic chamber to learn more about the professions of speech-language pathology and audiology.
Project HOPE
HOPE (Healthcare Occupations Preparation and Exploration) addresses the critical national need to increase diversity in the American healthcare workforce, including the field speech-language pathology, which is not racially and ethnically diverse. The AAC team takes a lead in introducing minority and low socioeconomic middle-school students to the field of speech-language pathology.
Following a building and clinic tour, brief overview of the profession, and Q and A's, the middle-school participants transition to a large classroom where station activities provide hands-on encounters with a variety of AAC systems. CSD grad clinicians guide participants in exploration and programming. CSD students benefit from the opportunity to educate and engage the next generation of professionals. The middle-school students not only get exposure to the field of speech-language pathology and different AAC systems but also gain awareness of what it is like to rely on alternative modes of communication.
Special Olympics Hearing Testing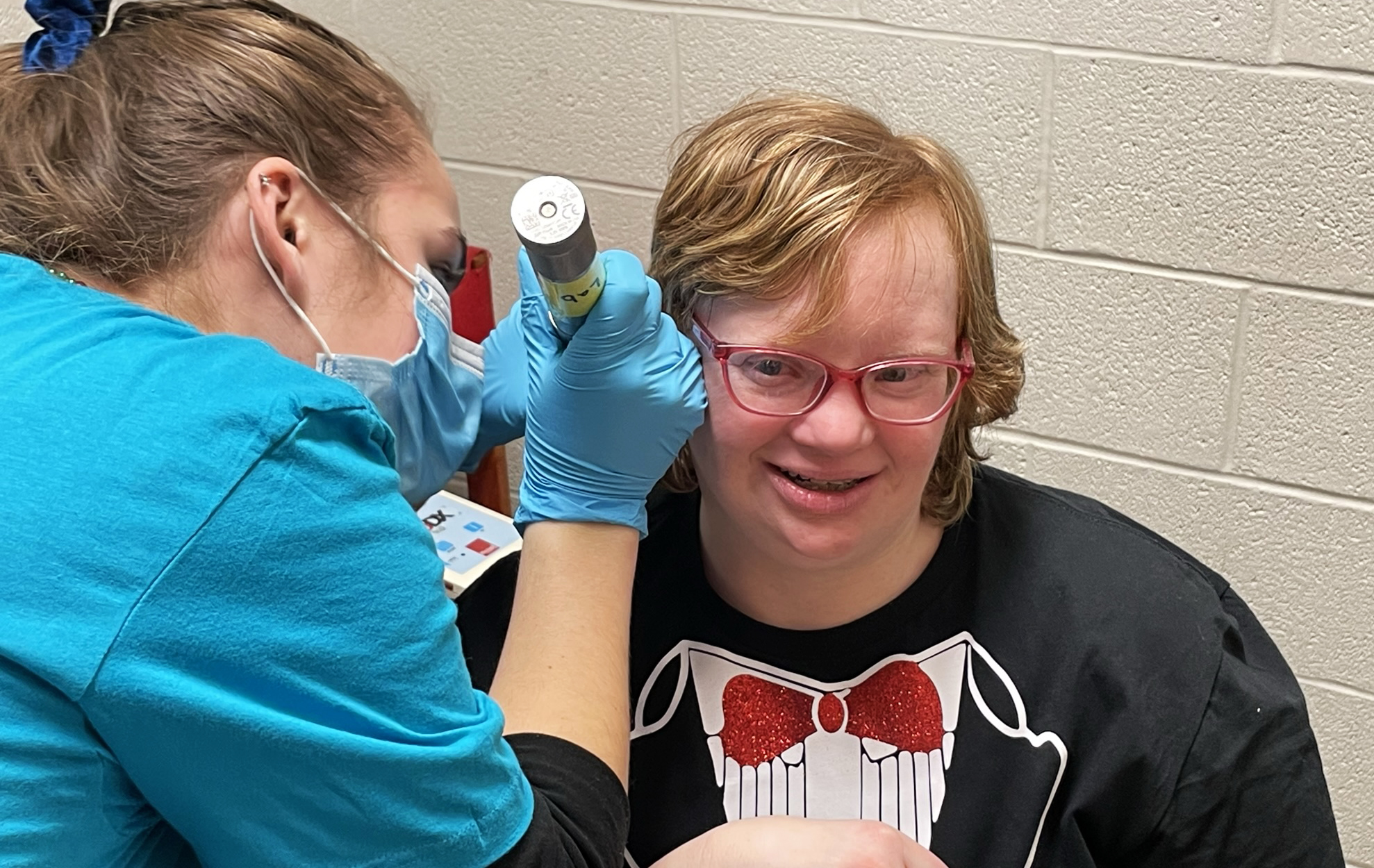 Elizabeth Stangl, Research Audiologist, coordinates hearing testing for the 200-plus participants in the Special Olympics Iowa Games each spring. Hearing loss among Special Olympians is much greater than the general population, as many hearing problems in this group are undetected or under-served. The Special Olympics Healthy Hearing program is free to the participating athletes. Students in speech-language pathology and audiology -- assisted by CSD faculty and staff -- volunteer to conduct the hearing screenings, gaining valuable training experience.
UI SAFE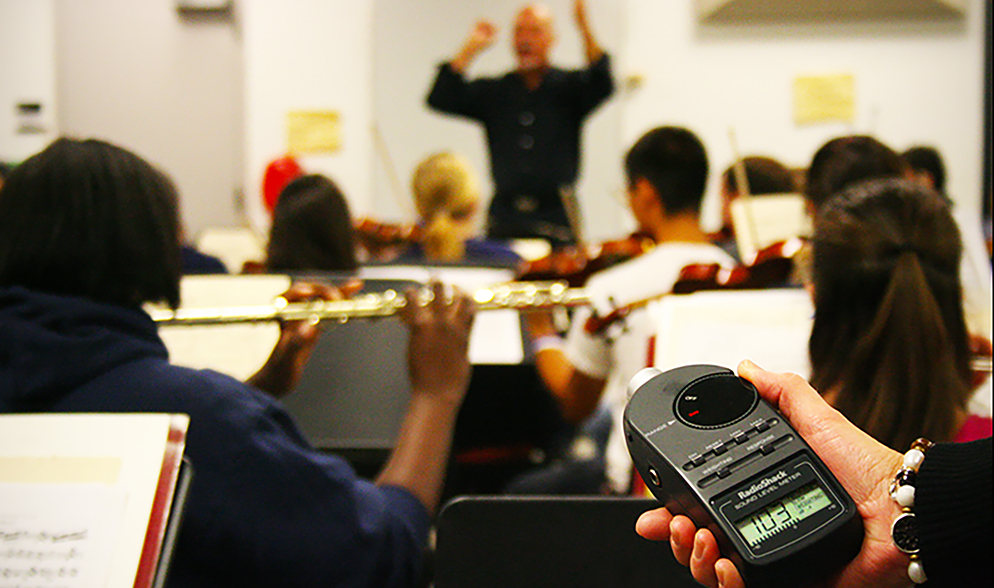 Led by Clinical Audiology Supervisor Kellsie Busho, UI SAFE is a faculty-student educational effort which promotes healthy hearing. The team's main focus is to reach out to individuals across the age span, educating them about exposure to hazardous sound levels which occur in daily life, as well as teaching effective strategies to protect hearing. UI SAFE gets their message out by participating in health fairs, presenting to school classrooms and band programs, providing information to a wide variety of groups of college students across campus, and posting on Facebook and Instagram.
Voice Academy
The Voice Academy was developed by Communications Specialist Julie Ostrem and a team of voice researchers and clinicians to protect the vocal health of U.S. schoolteachers. Research shows that teachers have the highest incidence of voice disorders as compared with other occupational groups. Funded by a health education grant from the National Institute on Deafness and Other Communication Disorders, teachers (and other professionals with heavy voice use) can visit the virtual school's classrooms,  learning preventative vocal health strategies, resources for overworked voices, and tools for creating a healthy vocal environment.