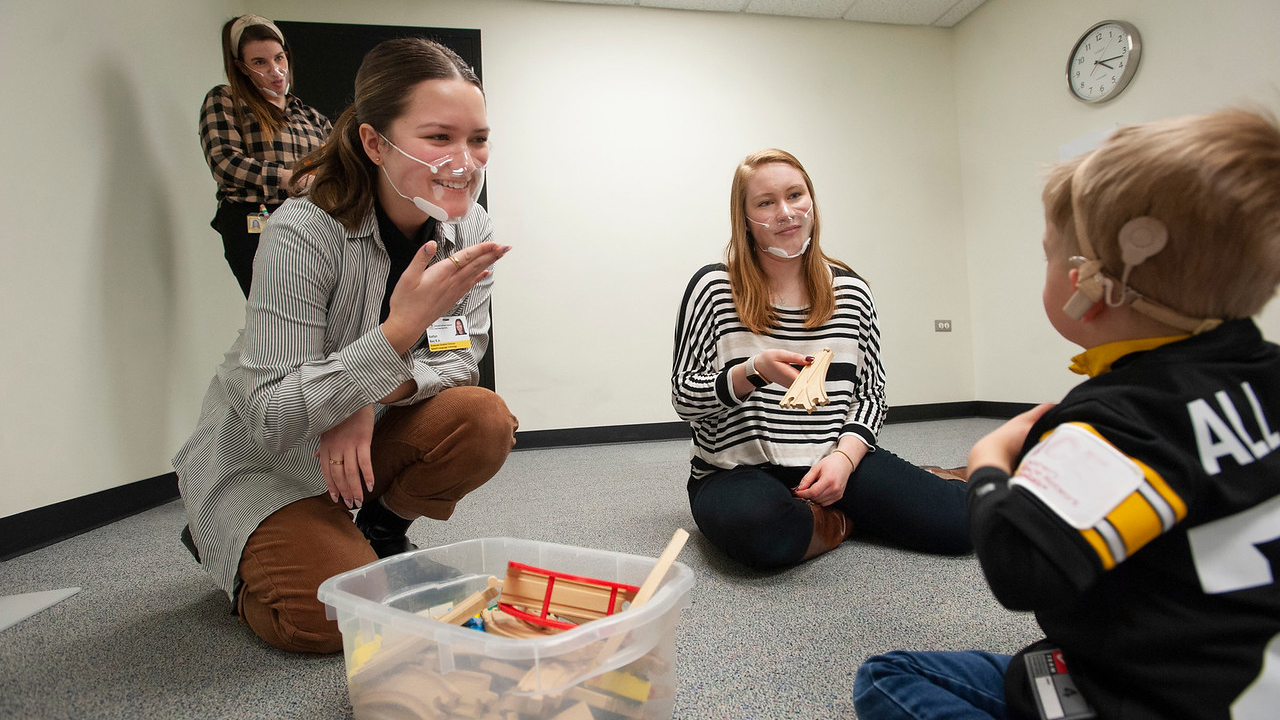 Aural Rehabilitation (AR) includes the assessment and management of hearing loss of individuals that use hearing aids or cochlear implants. It is a patient-centered approach that focuses on reducing the impact an individual's hearing loss might have on communication and quality of life. The role of the audiologist in AR sessions is to check devices, provide counseling for the patient and their family, share additional resources for services, advocate for the needs of the patient and family, and support the speech-language pathologist in sessions.
At the Wendell Johnson Speech and Hearing Center, we provide AR services for children and adults. Currently, all Aural Rehabilitation sessions are conducted over Zoom due to COVID-19. Refer to the FAQ document for answers regarding Zoom AR.
Frequently Asked Questions
How can I find out more about the AR services in the Clinic?
Download a brochure that more fully describes what we can offer the person in your life seeking AR services.
What AR services are provided to children?
Treatment for auditory/speech/language difficulties secondary to hearing loss are provided at the clinic within several service delivery models. These includes intermittent regular therapy sessions focusing on development of child specific skills as well as supporting the family in facilitation of the child's communication skills.
There is also an intensive program which occurs during the year. The Listen and Speak Up Preschool, is offered each summer to young children two mornings per week. A photo of a typical session of Listen and Speak Up (with the child receiving care from both audiology and speech-language pathology grad student clinicians) is shown here.
Visit the Summer Programs page to learn more.
What AR services are provided to adults?
Once an adult client has been fitted with appropriate personal amplification, whether a hearing aid or cochlear implant system, the journey toward better communication has started. Learning to use amplification effectively can be improved through attending communication training sessions. Our clinicians meet with you and your family members to discuss your communication goals and work with you to achieve those goals. Our clinicians feel strongly that family members and/or significant others should be included throughout the rehabilitation process. In addition to learning about hearing difficulties and how they can be remediated, family members can learn how to improve their communication skills to facilitate communication. It is important that you and your family members understand the benefits and limitations of hearing aids as well as how you can work together to make communication easier.
How is an adult AR session different from a child AR session?
Like AR for children, auditory training is the main focus. Information regarding understanding hearing loss, speechreading, communication strategies, and assistive listening devices is also provided. AR sessions are designed for the patient and their communication goals.
What kind of AR sessions are offered at the Wendell Johnson Speech and Hearing Center?
Wendell Johnson Speech and Hearing Clinic provides both individual and group AR sessions. Contact the clinic for more information to decide which session would best suit you or your family's needs.
How long are AR sessions?
Most AR sessions last about 60 minutes that includes listening check, speech training, and patient/family education.
Am I required to attend my child's AR Zoom session?
A caregiver is required to attend the Zoom session. This could be a parent, grandparent, nanny, etc. The role of the adult is ensure technology is functioning and to provide support when needed to reinforce the child.
What do I need for a telehealth appointment?
For all sessions, a stable internet connection and Zoom capabilities. For child AR sessions, toys and listening equipment may be necessary. However, the AR team will reach out to you before the session to let you know what is needed.