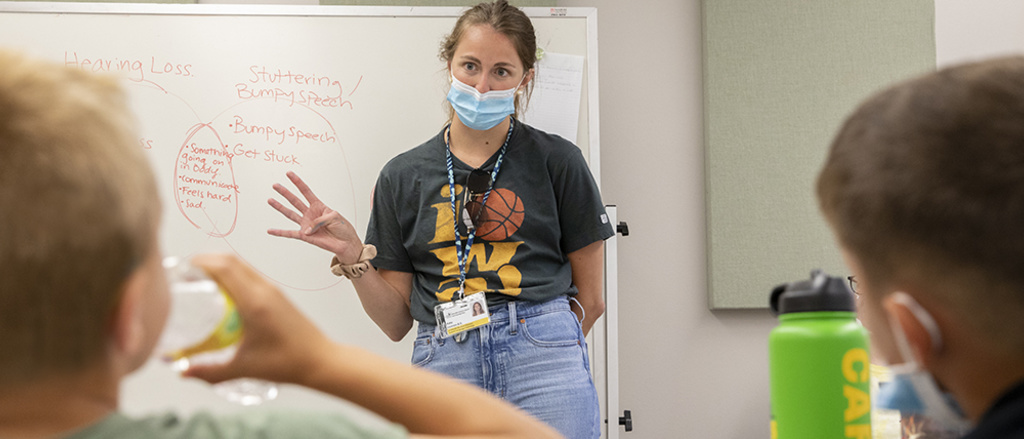 The University of Iowa is a pioneer in the field of Speech-Language Pathology. Much of what is known about stuttering—and therapies for helping people who stutter—originated here, under the guidance of Dr. Wendell Johnson (1906-1965).
Today, the UI's Wendell Johnson Speech and Hearing Clinic offers many services for people who stutter and their families. Help is available.
An Iowa-produced video "Stuttering: Myths and Facts" featuring Clinical Professor Anu Subramanian and Professor Emeritus Tricia Zebrowski provides insight into the world of those who stutter.
Evaluation
Diagnostic services are provided in the Clinic for individuals of all ages who have concerns about speech fluency or stuttering. The evaluation may include an initial assessment, consultation concerning previous evaluations and treatment, and recommendations for intervention.
Referrals for an evaluation are accepted from individuals as well as other professionals. The assessment is individualized to address specific questions or issues relative to each situation presented. The assessment may also include evaluation of other communication problems if indicated. Follow up consultation concerning the results of the diagnostic session are then provided to the client.
Treatment
A variety of clinical models may be utilized in speech therapy.
Individual as well as group sessions are available for children and adults throughout the calendar year. Intensive treatment options are also provided as appropriate, including services for individuals who do not live in the immediate vicinity of Iowa City or for clients who have work and other schedule conflicts which necessitate a more flexible therapy arrangement.
Resources
Websites and virtual support groups
Ted Talks / Podcasts
Clinical Coordinator
Anu Subramanian, Ph.D., CCC-SLP
Clinical Professor, Director of Clinical Programs