Hearing Testing for Children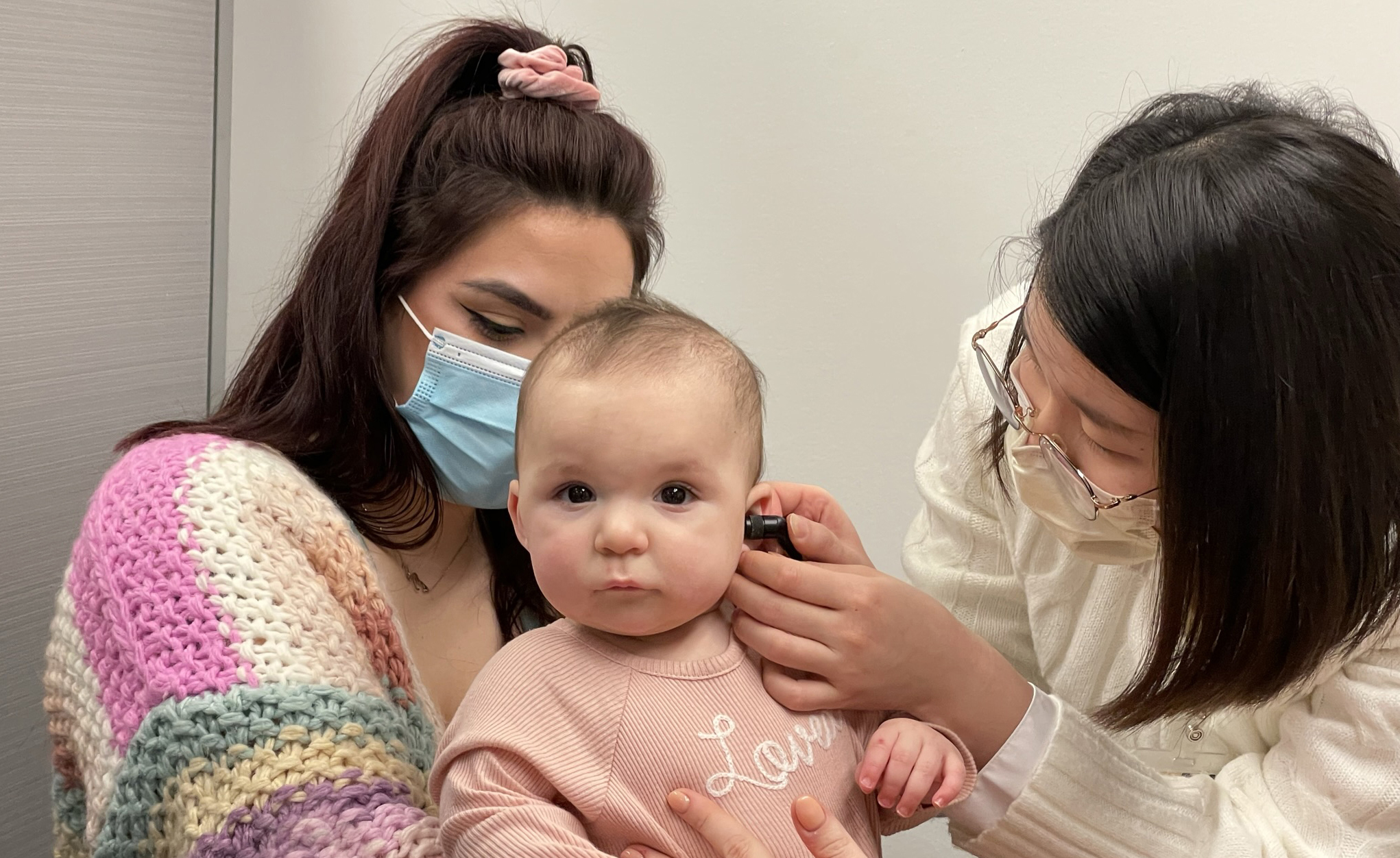 Our clinicians at the Wendell Johnson Speech and Hearing Clinic have specialty training to work with children with hearing loss and their families. We understand the importance of early access to sounds in a child's development and teaching caregivers how to care for the child's hearing aids or cochlear implants. Most importantly, we value your input as a parent. As the caregiver of a child with hearing loss, you are your child's advocate and know your child and their environment and needs best. We will work closely with you to meet your goals as well as the hearing and communication needs of your child.
Hearing Testing for Newborns
Newborn Hearing Screening: A hearing screening is a quick pass/fail test to see how well your baby hears different pitches. This is commonly done in the nursery shortly before the baby is released from the hospital to go home. It is recommended to be done within the first month.
Auditory Brainstem Response Testing (ABR)
Otoacoustic Emissions Testing (OAE) 
ABR and OAE testing allows us to measure hearing abilities without the child responding. The best results are obtained when the child is sleeping during these tests.
Hearing Testing for Young Children
Visual Reinforcement Audiometry is used with toddlers and assesses hearing abilities by recording whether or not your child looks in the direction a sound was played.
Play-based Hearing Tests designed to use play as a response to hearing a sound. For example, instead of expecting your child to raise their hand when they hear a beep, they can toss a ball to us.  
Hearing Loss Treatments and Resources for Babies and Young Children
When working with children who have hearing loss, a team approach is often best. We can provide information on other services your child may benefit from, in addition to hearing devices. These services could include working with a speech-language pathologist, pediatrician, otolaryngologist (ear-nose-throat physician), genetic specialist, or school audiologist.
A referral from your child's pediatrician, primary care physician, or otolaryngologist is recommended before testing or treatment is provided by our clinicians.
A release of information is requested so that information can be shared with other professionals in order to coordinate and provide the best care for your child.
Consultation on selecting hearing aids and assistive hearing devices for your child
Share our Herky Poster with your child to prepare them for their hearing helpers.
Maintenance and repair services: If you think your child's hearing aid may be broken or not functioning properly, contact the clinic for advice and / or to schedule a visit
Support navigating hearing-loss related accommodations for your child at school
Aural rehabilitation and other speech-language services are available in the Wendell Johnson Speech and Hearing Clinic.
Frequently Asked Questions
What style of hearing aids will my child wear?
The most common style fit is a behind-the-ear style. This style will typically have a soft silicone earmold that can be changed as your child grows and they are safer in your child's ears. For most children, hearing aids are equipped with tamper-proof battery doors and volume control turned off, for your child's safety. These hearing aids are easy for families to take care of and are available in various fun colors. Behind-the-ear hearing aids are compatible with FM systems that are often used in the classroom.
When does my child need new earmolds?
If you notice that your child's hearing aids are not creating a seal, are loose in the ear, or are producing a lot of feedback (squealing) your child may need new earmolds. Earmolds will need to be refitted and made as your child grows. From birth-1 year of age, children often need new earmolds every 1-2 months. From 1-5 years, children likely need new earmolds every 4-6 months. After 5 years old, children may only need new earmolds every 9-12 months.
How often will my child have audiologist appointments?
When first receiving hearing aids, we will see you for follow-up services in 2 weeks and about every 1-2 months for the first year. These appointments are used to check the physical fit of the hearing aid and earmold, as well as amplification settings and test hearing. After the first year of hearing aid use, we encourage follow-up appointments at least every 3 months.
How will I pay for my child's hearing aids?
Read information about submission of insurance claims and other financial resources on the opening page of the Clinic website. Several funds are available for financial assistance toward children's hearing aids. They include the Elizabeth Thomas Fund, Student Academy of Audiology, Early Hearing Detection and Intervention Funding, and other service organizations.