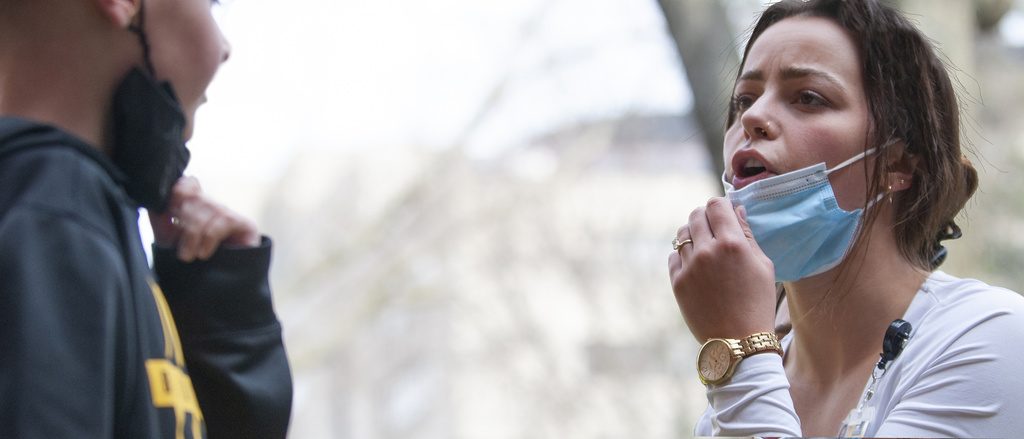 As clinicians, we respect the ASD community's values for seeking a large stake in their own treatment path, based on each client / family's needs and preferences. As such, individualized care plans are developed to maximize each client's functioning as aligned with their priorities. Those supports may include: articulation, phonology, receptive / expressive language, social / interaction skills, play skills, executive functioning skills, augmentative and alternative communication, and literacy/reading comprehension.
Graduate student clinicians on the autism team rotation build their skillset by planning and leading the client sessions, under the guidance of CSD's licensed and experienced speech-language pathologists. Collaborations with additional healthcare professionals -- as described below -- enhance this training.
Project ImPACT
Project ImPACT is a parent education/early intervention program for families with a young child with autism.
Graduate student clinicians act as "coaches"  under the supervision of Jenny Brodell, MA, CCC-SLP, Clinical Assistant Professor, who has specialty training in the Project ImPACT program. They teach parents and caregivers to use new language, play, imitation, and social communication facilitation strategies to support the child. In this way, the parent becomes the interventionist and practices using these approaches (which are a combination of naturalistic/developmental strategies and behavioral strategies) to support their child's skill development. PowerPoint presentations, videos, demonstrations, and brainstorming with families all work as tools for implementing strategies at home and in the community.
Other professionals -- psychologists, social workers, and speech-language pathologists -- from the University Hospitals and Clinics and Center for Disabilities and Development may also join the team, giving CSD students opportunities to work in partnership with various professionals.
Project ImPACT is an evidence-based program developed by Brooke Ingersoll and Anna Dvortcsak; read more at https://www.project-impact.org/course-overview/.
Interdisciplinary Autism Diagnostic Clinic
In this clinic, the main focus is an accurate diagnosis of autism for young children (up to about age seven). Two psychiatrists, a psychologist, and UIHC's autism center coordinator work with Jenny Brodell and an advanced student (on a mini-outplacement or full outplacement).  By working in partnership with UIHC Child Psychiatry, Center for Disabilities and Development, Rehab Therapies, and others in training, students practice interacting within a healthcare team. Other observers – such as medical residents and fellows, LEND trainees, and post-doctoral psychology candidates – further enrich CSD student experiences.
Language and Learning Clinic
Held in collaboration with the UIHC Department of Child Psychiatry, grad student clinicians in this rotation see children of all ages for concerns related to communication and mental health, learning, or other developmental disabilities. Working with a UIHC psychologist, students develop proficiencies working in a healthcare team and can observe and participate in the staff psychologist's testing processes.
Social Climbers
Social Climbers is a summer program for kids ages 6-14 to develop and practice conversation skills, understanding and building relationships, self-advocacy, perspective-taking and navigating social issues. During the fall and spring, past participants meet in monthly support groups for additional socialization.
Stacy Robinson and Jenny Brodell co-direct Social Climbers;  read more on the Summer Programs website.
Clinical Coordinators
Jennifer Brodell, M.A., CCC-SLP
Clinical Assistant Professor
Stacy Robinson, M.S., CCC-SLP
Clinical Assistant Professor