Augmentative and Alternative Communication
The Wendell Johnson Speech & Hearing Clinic provides services for individuals who use Augmentative and Alternative Communication systems (AAC). AAC refers to the supplementation or replacement of speech using unaided and aided methods, such as manual signs, communication boards, and high-tech speech-generating devices.
Services for Clients
Services are available for individuals who have:
cerebral palsy
progressive neurogenic disorders
low-incidence disorders
severe apraxia of speech
traumatic brain injury
intellectual disabilities
aphasia
autism
Services include resources, evaluation, equipment access and programming, and therapeutic instruction. Therapy is tailored to each client's individual needs and abilities with an emphasis on spontaneous, generative communication in a motivating and goal-directed environment.
Brochures with additional information on AAC Services for Adults and AAC Services for Children may be downloaded and shared with potential clients and their families.
Opportunities for Students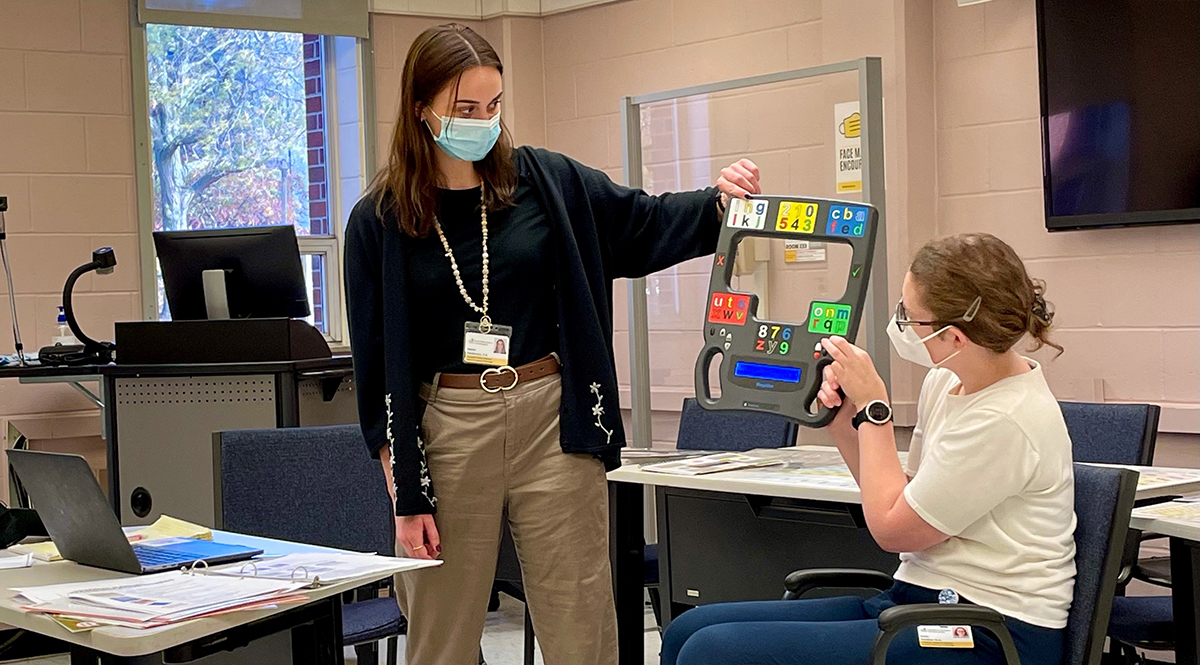 Amyotrophic Lateral Sclerosis Assistive Technology Learning Lab
Through a partnership with The ALS Association and thanks to funding from the Christopher and Dana Reeve Foundation, our department received assistive technology and low-tech communication kits to serve clients with ALS and their caregivers. Twice per year, Wendell Johnson Speech and Hearing Clinic hosts ALS Communication and Assistive Technology Learning Labs. The Learning Labs are an educational opportunity especially created to introduce augmentative and alternative communication and assistive technology tools to those impacted by ALS. Graduate clinicians offer education and exposure to a variety of communication and assistive technology interventions to individuals with ALS and their caregivers.
The following topics are addressed either through interactive practice stations or through demonstration or video on Zoom:
High Technology Speech-Generating Devices and Switches
Hands-Free Computer Access
Smart Phone and Tablet Apps and Access Interventions
Environmental Controls
Rapid Access/Low Technology Scanning and Eye Gaze Interventions
Project HOPE
HOPE (Healthcare Occupations Preparation and Exploration) addresses the critical national need to increase diversity in the American healthcare workforce, including the field speech-language pathology, which is not racially and ethnically diverse. The AAC team takes a lead in introducing minority and low socioeconomic middle-school students to the field of speech-language pathology.
Following a building and clinic tour, brief overview of the profession, and Q and A's, the middle-school participants transition to a large classroom where station activities provide hands-on encounters with a variety of AAC systems. CSD grad clinicians guide participants in exploration and programming. CSD students benefit from the opportunity to educate and engage the next generation of professionals. The middle-school students not only get exposure to the field of speech-language pathology and different AAC systems but also gain awareness of what it is like to rely on alternative modes of communication.
AAC Camp
Graduate students from The University of Iowa and the University of Northern Iowa (under the guidance Dr. Evette Edmister) work in partnership with Easterseals Iowa to integrate an AAC camp into the summer program at Camp Sunnyside in Des Moines, IA. The camp has been conducted both in person and virtually.
Independent Study
Krista Davidson guides both graduate and undergraduate students in independent studies each semester. Projects are based on the student's area of interest in the field of AAC. In the past, students have conducted literature reviews, led presentations, participated in case studies, and created AAC-focused websites.
Clinical Coordinator
Krista Davidson, M.S., CCC-SLP
Clinical Associate Professor