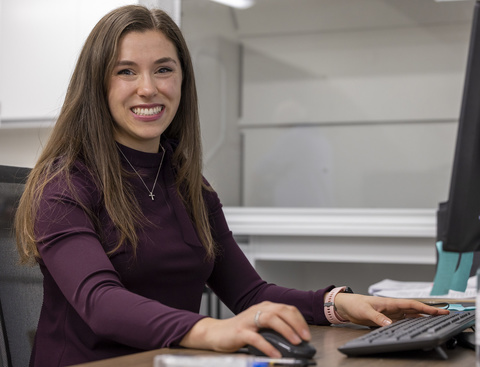 Hailey Kingsbury, a doctoral student in Iowa's Audiology program, is the new president of the National Student Speech Language Hearing Association (National NSSLHA).
"I'm delighted and proud that Hailey will represent the voices of more than 11,000 student NSSLHA members in over 350 chapters in colleges and universities nationwide," said Eric Hunter, CSD Department Chair. "Iowa CSD takes great pride in teaching our students to become not only great clinicians, teachers and researchers, but also leaders in the professions of speech-language pathology and audiology. It's simply part of Iowa's DNA."
As president of the national organization, Hailey will lead 12 students who compose National NSSLHA's Executive Council, which represents students pursuing degrees in the fields of communication sciences and disorders.
"This is a dynamic team of student leaders who are committed to supporting CSD students, representing them, and amplifying their voices," said Kingsbury. "I'm proud to be serving with them as we help create resources and learning opportunities for our members.
"Our goal is to continue building a diverse and inclusive NSSLHA membership community to bring more diversity to the fields of audiology and speech-language pathology," she added.
Earlier this year, Clinical Associate Professor and Director of Clinical Programs in Audiology, Stephanie Fleckenstein, Au.D., CCC-A, was awarded the 2023 Honors of NSSLHA for excellence in clinical teaching.
Bravo, Hailey and Stephanie!